Oh, Japan.  What a weird place.  A place where you can pay to cuddle girls, grab their tits only, or buy used panties from vending machines.  If you live there, you already know what I mean when I say it's a weird place.  It's really hard to get a date in Japan unless you use a dating site like JapanCupid.  This site is by far the best dating site to use if you want to get laid for free or cheap, or if you are looking for a proper girlfriend.  It's hard to get dates here without using JapanCupid because a lot of the normal girls don't speak very much English.  A lot of the Japanese people are a little bit racist towards foreginers too so some girls don't want to be seen talking to you in public.  There really aren't that many 'foreigner hunters' here either like there are in some of the other countries.  There are PLENTY of exceptions to this, though.  The thing is, they all congregate in one place that's pretty accessible.  Can you guess where that is?  Yea, right here on Japan Cupid.
The culture here is so different that it's hard to approach a girl in public and end up taking them out on a date.  There are quite a bit of prostitution places (I'm not going to try to spell the names).  There are also a lot of 'snack' bars where you can pay to talk to girls.  This is pointless basically but can be a fun experience.  At the end of the day, the only real option without paying $150 USD+ for a hooker is to get on JapanCupid.   Signup for Japan Cupid below.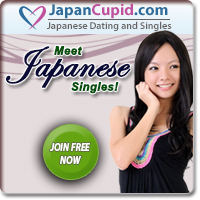 I had a great time in Japan when I was there in 2015.  The girls on this dating site were really shy with messaging but they were wild in bed and liked you to take control.  They would still message you all the time online but they just weren't very dirty through messaging.  Get them in the bedroom, though…and you're in business!  I stayed for 2 months but it was a bit isolating.  I have a large group of friends in other Asian countries and there weren't that many other sexpat friends to hang out with in Japan.  This review is based on my time there and what I've heard from a couple other guys that have spent some time there.
Are there really scams?
Yes but the site itself isn't a scam at all.  Let me explain.  There are a couple of options for dating sites to use but you should avoid all of them except JapanCupid because they are rampant with scams.  Cupidmedia is known for being vigilant about stopping scammers and suspending fake profiles so you can be sure it's okay.  You should always keep an eye out though because some of these scammers slide by the system.  They're usually pretty easy to spot if you're paying attention.  The worst thing that you ever run into is a post-0p ladyboy that really wants to suck a foreigner.  You'll be fine, just pay attention!
What are the Japanese Cupid Members like?
There are thousands of girls in the major cities that are on JapanCupid hoping to meet foreigners.  It's not quite the same as Thailand or the Philippines in the sense that almost EVERY girl wants a foreigner, but there are definitely still a lot of them if you know where to look.  And obviously, the place to look is on Japan Cupid because almost all of these girls are actually looking for a foreigner.  These are the girls that generally speak English pretty well and have the white-worship thing going on.  If you just walk out in the street here and try to talk to a cute girl they will avoid you like the plague.  This is not only because their culture is a little closed off and reserved in public but also because most girls don't really speak English.  The only way this will ever work is if you speak Japanese fluently and it's still rare to meet a girl in the street this way from what I've heard (I don't speak Japanese).  So, the members on JapaneseCupid are generally attractive and I'd give them an average of 6.5.  It's not very hard to find an 8 on here that likes foreigners and they usually know what you're looking for.  Just sweet talk them a little bit and you'll be in business!  I try to make sure they know that I live in Japan or that I'm going to be there for at least a few months so they can try to win you over.
Should You Get The Paid Version of JapanCupid?
Yes.  Just like all other locations where the dating sites get the AsianSexpats seal of approval, you should definitely get the paid version.  This is by far the best dating site in Japan so there's no reason to look anywhere else.  I don't usually kiss and tell (especially with pictures) but this is probably the best place in the world for online dating.  This is the best place because the hookers are extremely expensive compared to most other Asian countries and because the other girls that you meet in public probably won't speak very good English.  This is pretty much your only option.  Getting the paid version should be thought of as an investment.  Think of it this way – if you invest $500 to have sex with 10 girls multiple times or even to just find a long term girlfriend, you are coming out a HUGE winner.  There's no way you'll even have to spend $500, just get the platinum membership for one month and you'll be swimming in Japanese girls.  For the price of 1 hooker, 1 time, you can have access to thousands of girls that are looking for someone like you and me.  Even if you're not already in Japan, you should signup and 'pipeline', meaning you can set up 10 dates before you even arrive!
Paid
Send unlimited messages
Advanced search functions
Best way to find yourself a girl!
Platinum for one month and you win!
Unpaid
Severely limited search functions
Can't message most members
Girls think you're poor (Terrible in Asia)